Company Overview
Two is company. It is so right that two young minds came together and decided to start a company – a new family. They chose their spouses to be founders and facilitated them with all they needed. Thus, GLOPAL MANAGEMENT AND SERVICES PRIVATE LIMITED was constituted and is registered under the Indian Companies Act, 2013 on April 20, 2017 with CORPORATE IDENTITY NUMBER (CIN) of U74999WB2017PTC220674.
The company has been the merger of two minds (families) – one with consultancy skills and the other with IT skills. These form its core business areas.
The name GLOPAL stands for GLO – Global and PAL – friend. It assures to be 'Your Global friend'. It also appears on its registered trademark along with the symbiosis of two letters, viz. G and P.
The company has been categorized as MICRO ENTERPRISE in the SERVICE SECTOR by the Ministry of Micro, Small & Medium Enterprises (MSME), Government of India, with 100% Women entrepreneurship and 51% minority participation.
Promoters and Directors

The company is promoted by two women entrepreneurs. SUTAPA MONICA GOMES (DIN07774964) is the Managing Director. A graduate with excellent flair over communication and mastery over managing affairs. The other woman is SHYAMOSHREE BANERJEE (DIN07774929) who is the other Director. A graduate who has exceptional human skills.
The two Directors are assisted by their spouses in various endeavours. Managing business has now become a regular family affair. The Directors have become more synergetic and strive to replicate that in all forms of work.
Advisors
The Promoters and Directors are fortunate to have the following advisors:
Asok Kumar Banerjee – Marketing, Branding, Strategy
Sunil R. Modi – Technocrat, International Educational & Management Trainer, Foreign Trade Advisor & Consultant for African Continent
Desh Dulal Chatterjee – Taxation and Laws, GST Advisor
S. Banerjee – EXIM
S.M. Gomes – Finance, O&M, Mentor
Prof. (Dr.) Subhasis Neogi – Energy, Green Solutions
Vision, Mission, Objective, Core Values and Strategy

Our Vision is to be a PAL (friend) in need and a global player in the field of consulting and IT.
Our Mission is to treasure the needs of our clients, fulfill their demands and give satisfaction.
Our Objective is to lay a special focus on startups, women entrepreneurs, and marginalized business people in bringing about a social revolution.
Our Core Values have been identified with the letter 'C' – and 2 sets each of 6 Cs represented in a Circle within which 2 triangles have been placed to form a star. The first set of Cs are placed on the outer core and are primary which is very evident and visible upon starting a relationship with us. As we develop our relationship and it matures, the second set of Cs become visible, which are placed in the inner core. The triangles resemble – one is us and the other is obviously you.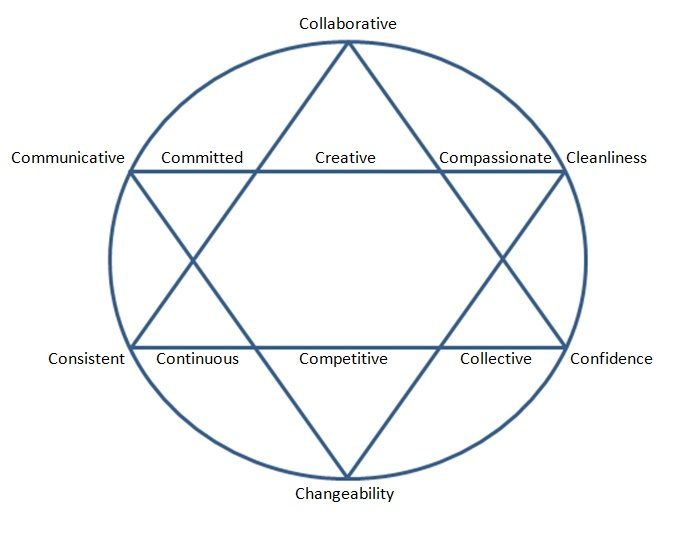 Our Strategy  is 'Business through Networking'
Revenue Model
The major revenue of the business is expected to be generated from two sources – Consultancy and IT. In the area of consultancy, the company looks for engagements in various sectors and industries, domestic as well as global. It is open to collaboration with other institutions and partnering so as to create a diverse and more competitive bidding. It has created a pool of consultants who are to be engaged in various projects and operations undertaken. It has also signed MoUs and agreements to work collaboratively.
Services
At the core, revenue shall flow through collaborations and in three different but interrelated categories of revenue generators:
EduTraC

Education – Academic, Professional, Knowledge Transfer, Blog: Science Reckoner
Consultancy – Conceptualization, Project Formulation, Project Implementation, Operations and Support for Business, Not-for-Profit Institutions, Government, Non-Governmental Organizations, Events, Company Formation, Accounting, Finance and Taxation, Strategic Management, HR Compliance, Fire and Safety, Energy Audit, Green Building, Green Campus,IPR, Startup, Standup and MSME, Open Source, Education, Training, Collaboration and Exchange, and many more

IT and ITeS

Software Application – Development and/or Customization and support, IT Management, Web Domain and Hosting, Web Designing, Mobile Applications, and many more
Data services:  Data Entry, OCR Conversion, E-mail Migration Services
Voice services:  Medical Transcription, General Transcription, Legal Transcription Services, Movie Subtitle Services
Educational services:  Blogging Services, Online Science Coaching Services, Educational Video Productions

Export Import
Systems and Process Integration:  The Company is gradually establishing itself in the field of Systems and Process Integration – specializing in bringing together component subsystems into a whole and ensuring that such subsystems function efficiently and effectively together. In this regard it is developing collaborations, involving other experts and consultants to build highly specialized teams and groups, buyers and sellers, exporters and importers
Compliances, Registrations and Jurisdiction

Corporate Identity Number (CIN): U74999WB2017PTC220674 (Companies Act, 2013: Private Limited Company)
Goods and Services Tax Identification Number (GSTIN): 19AAGCG8032R1ZW
Importer Exporter Code (IEC): AAGCG8032R
Permanent Account Number (PAN): AAGCG8032R
Professional Tax (West Bengal): 192081730717
Trade License (Haldia Municipality): 16800/3685/2221
UDYOG AADHAAR NUMBER (UAN): WB12D0001978 (Categorized as Micro Enterprise in Services Sector with 100% Women Entrepreneurs and 51% Minority Participation)
Registered/Enrolled with GeM, MSME Mentor, Startup India, Standup India
Jurisdiction: All matters are subject to the jurisdiction of Haldia Sub-divisional Court, Purba Medinipur, West Bengal only